Here is my first layout for Jennifer Grace's blog event
Onwards and Upwards
inspired by this
layout based on a quote
. I love how the title is so big and takes up a large proportion of the layout. I also love that it uses a mix of alphabets - a good way of using up half used packs of Thickers when you don't always have enough letters to use the one pack for the whole title.
A quote that has been resonating with me for a little while is -
"I have chosen to be happy because it is good for my health" Voltaire
I enjoy being happy and do make a conscious effort even on bad fibro' days to be happy as I find a low mood does have a direct bearing on how I physically feel and my pain levels. I do find this hard though when some of the people around me seem to think that because they are miserable or unhappy then everyone else around them should be unhappy too.
I have taken to calling these people Dementors as they do seem to have the ability to suck every ounce of happiness out of your body LOL!! So finding this quote really made me happy, as when I get up in the morning I do have two choices - I can wallow in misery and bemoan what life has decided to chuck at me (and make myself feel ten times worse) or I can just suck it up, smile and count my blessings as believe me life could always be an awful lot worse. I have a lot of blessings in my life and it was nice to be able to do a layout about the things that do make me happy. And I know I will smile everytime I see this layout!!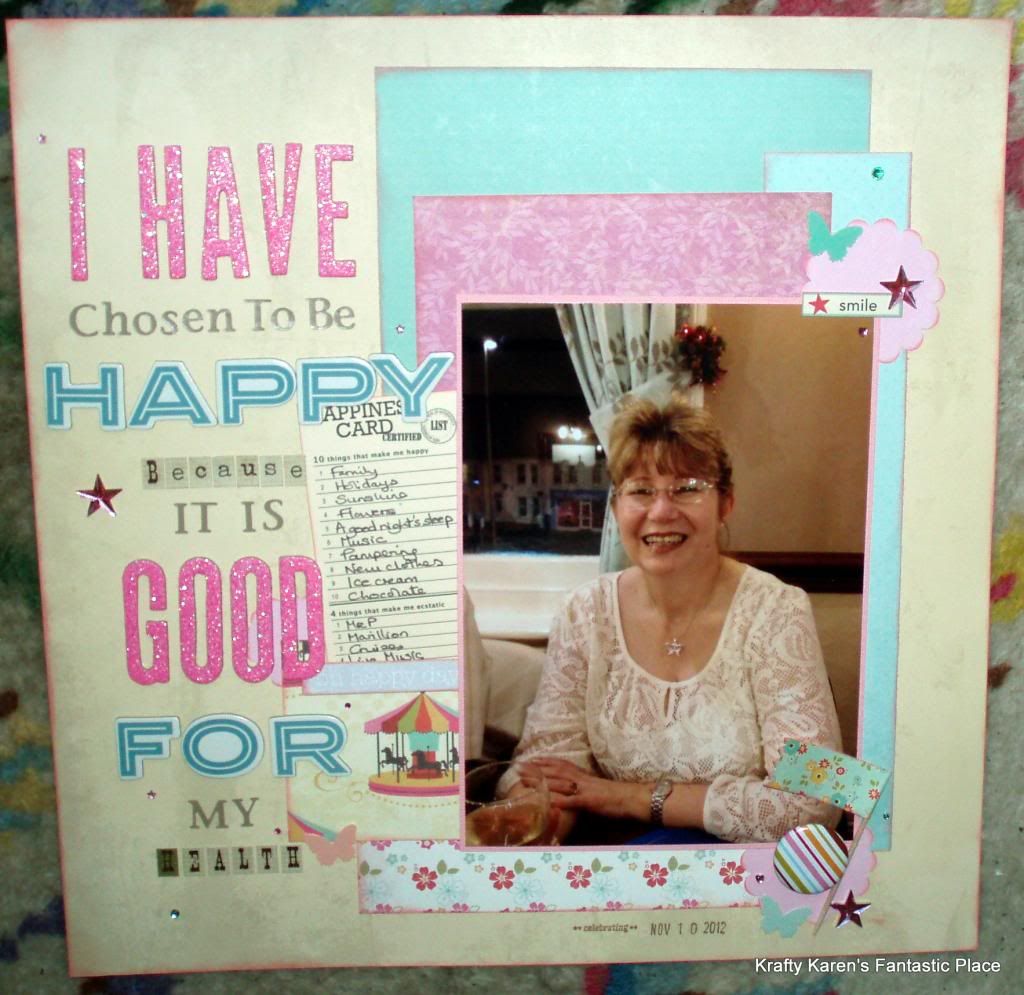 I used a mixture of Thickers for the title, plus some CM alphabet stickers and some other stickers that I have no idea what brand they are. The papers and embellishments are from a Sarah's Cards kit (March 2012) - 3 Bugs in a Rug 'Ashtyn'. I added a scattering of assorted gemstones and pink stars from my stash.
I found a 7 gypsies journalling card about being happy and made the following list - the ten things that make me happy are Family & Friends, Holidays, Sunshine, Flowers, A good night's sleep, Music, Pampering, New Clothes, Ice cream and Chocolate. The four things that make me ecstatic are Mr P, Marillion, Cruises and Live Music.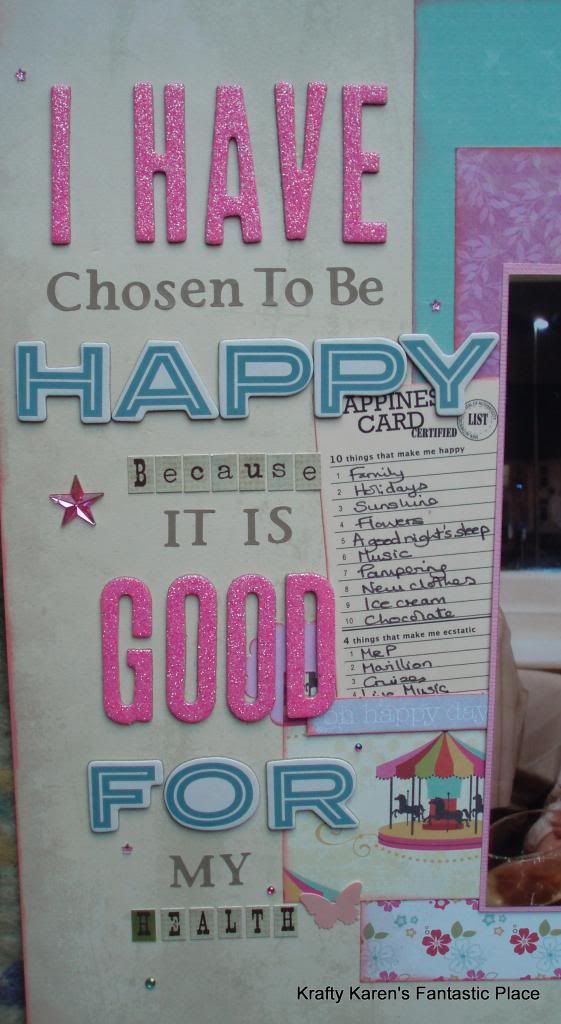 Thank you Jennifer for sharing your layout and giving me the inspiration for this one xx